Global Citizenship Award
The annual Scottish Health Awards Global Citizenship category recognises the dedication and commitment of an individual, group or team who are passionate and committed to contributing to global health and social care work in low and middle income countries.
This award is for any individual or group or team who volunteer in global health and includes all staff working in health and social care including nurses, doctors and dentists, allied health professions, social workers, social care workers, healthcare scientists and estates and maintenance and other support staff.
To find out more about the Scottish Health Awards Global Citizenship category visit www.scottishhealthawards.com.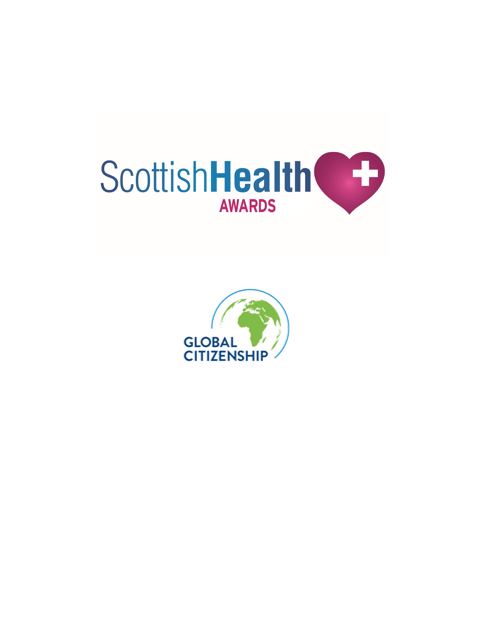 Global Citizenship Award finalists for 2022
WINNER

Andrew Kent, NHS Highland, for a lifetime of service delivering humanitarian care around the world
Ishbel Campbell, NHS Lothian, for her work to improve nursing care of fistula and childbirth injury patients in Uganda.
Robert Stewart, NHS Lothian, for his work to improve mental health services in Malawi
Global Citizenship Award 2021
2021 Finalists:
WINNER Stuart Watson, NHS GG&C, for his work with various charities and organisations, using his skills as a plastic surgeon to improve the lives of people who have suffered from burn and scald injuries in Africa.
Dr Lesley Crichton,  NHS Tayside, for her work with the Zambia Anaesthetic Development Program (ZADP) to improve the delivery of safe anaesthesia within Zambia.
Dr Penelope Granger, NHS Tayside, for her work with Dundee Dental School to provide dental care and oral hygiene education on the island of Tristan Da Cunha
Listen to our 2nd podcast with the 3 global citizenship finalists from 2021 talking about the global health partnerships that they have been participating in.
Global Citizenship Award 2020
2020 Finalists:
WINNER Mhairi Collie, Consultant Colorectal Surgeon, Western General Hospital, NHS Lothian, for her work on fistula repair surgery in Uganda through the charity Uganda Childbirth Injury Fund
Jane McGasgill, Consultant Breast Surgeon in NHS Tayside, for her work as part of a team of NHS volunteers and other professionals and volunteers in Palestine through the charity Medical Aid for Palestinians (MAP)
Dr Sonali Tarafdar, Consultant Ophthalmologist, Ninewells Hospital, NHS Tayside, for her work on eye care and fighting blindness in rural Ethiopia through the charity Fiona's Eye Fund
Click here to listen to the winner and finalists discussing their global health work.
Global Citizenship Award 2019
WINNER Julius Kofi Serebour Donkor, Cardiac Physiologist, Aberdeen Royal Infirmary, NHS Grampian, for his commitment to supporting healthcare in Ghana through the provision of donated medical equipment (defibrillators), raising funds for consumables and training local medical staff on the use of equipment.